Loans over the Phone that feature No Credit Checks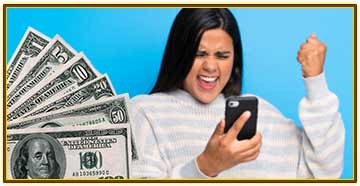 Getting a loan over the phone was never this easy before. Today, by simply connecting with our team and sharing a few details over a phone call and the necessary documents in any mode that you prefer, can get you a loan that's quick and reliable. We go a step ahead to make the loan transaction private and easy to qualify for – our loans come with no credit checks from any of the major bureaus. This way, you can get a loan no matter what your credit score is, and at the same time, the loan doesn't hit your current credit performance.
How can I Get a Loan without Paperwork or Faxing?
Choosing Central Payday as your lender, you shall never need to use paperwork or faxing for a loan. Our loans can be applied for on-call and if you wish, you can send in the documentation required, from your mobile device directly to us when asked.
Our loans offer other valuable benefits too:
All credit scores accepted
Quick approvals and deposits
No Teletracking
24-hour email support
No third-party involvement
How are these Different from an Online Loan?
With us, you can get installment as well as payday loans by phone or online. Online loans are the most recommended choice as in both cases, the submission of the documents we need would have to be done online – either using a mobile device or a computer. However, the working of both options is essentially the same. We provide both options mainly to make it easier to suit the preferences of more customers.
Can I also Get an Installment Loan over the Phone?
At Central Payday, we provide both payday and short-term installment loans over the phone. Given the flexibility in terms that we offer to eligible borrowers, you can get a loan with monthly or bi-monthly payments for tenures between 3 and 24 months. Simply get in touch and our team shall work with you on a suitable option.
Are You a 24 Hour Payday Lending Service?
Yes, certain operations within our business run 24 hours. To apply during off-business hours, simply use our online system. However, do keep in mind that loan approvals often need certain partnered services to be functioning and not all partners have 24x7 operations.
So, when you know of a requirement for a loan, do keep in mind that while we work to give you quick service, not every loan can be approved overnight or over weekends.
Apply for our Loan by Phone
Applying for a payday or an installment loan over the phone is a simple task when you choose Central Payday. We shall need these details/documents to assess your loan eligibility:
Your SSN
Valid bank account details
Active contact details
Proof and age and identity (18+ only)
Proof of income (past 3 months)
Once you connect with us, you shall be asked to share these, so you can keep them handy.