Now Anyone Can Avail Flex Loans Online with No Credit Check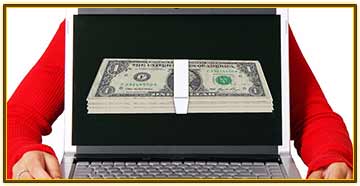 At times, you confront a severe cash crunch and you might already have a payday loan to pay off the very next salary day. To limit this financial burden of someone like you we introduce online flex loans with no credit check that can be repaid at your own convenient pace over multiple monthly installments. Also, this process is free of any paperwork and faxing during verification. The online application also saves your valuable time while sparing you from waiting in a line. We, as a trusted direct lender, understand your immediate need for money and provide you with the desired cash amount between $200 to $1000 within the next 24 hours of application.
Rejection Is Out of Question: Our Flex Loans Are for Bad Credit also
When you are happy about the fact that we don't check on your credit score, you might wonder as to why would we provide you with money without knowing your creditworthiness? We actually check your present status of income rather than keeping a check on your old credit history. There are cases when your credit score may not reveal the accurate status, as the previous lenders have not reported your payments. Therefore, we make sure that your income is continuous and stable by asking you to show us your current income proof. We, at CentralPayday, believe that having a bad credit can't decide your present need for money and hence you can easily avail our flex loans online for bad credit also. Because this entire procedure looks so unbelievably simple; you can rest assured that there are no hidden fees or higher rates of interest will be charged by us at the time of repayment.
Apply for Flex Loans Online and Get Money Easily
Are you applying for a flex loan online for the first time and don't know about the required eligibility criteria? Here are the guidelines that should be followed by you to avail these loans. They are: –
You need to be an American citizen or a permanent US resident
You should be having a valid bank account
Your age should not be below 18 years
You must have a continuous source of income
Also, below is the list of documents that are advised to be kept handy while filling up the flex loans online application form: –
A recent bank statement
Residential address proof
Driver's License
Social Security Card
The approval is done in just 3 minutes of application from your own mobile phone or laptop. Avail this credit assistance now, without any delay!
Eligibility Criteria for Same Day Cash Loans
As has been said earlier at CentralPayday as direct lender, we always maintain transparency, and our requirements hence are very minimum. You are eligible to apply for quick personal loans same day with few qualification like :-
You have a valid US citizenship
You have crossed 18 years of age
You have a fixed source of income
You have a working bank account.
Though there are multiple reason as to where you can use these fast cash payday loans. You can clear you due bills, or meet up emergency cash deficiency, or remove your bad credit. Whatever be the need, just give us 2 minutes of your valuable time to fill in our online flex loan application procedure and we will offer you quick loans on same day without any hassles.