Quick Application, Quick Processing, Quick Funding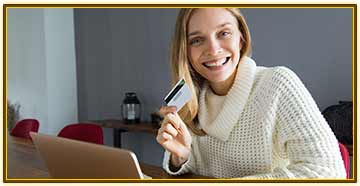 Payday loans from Central Payday are reputed as a quick and efficient solution for short-term financial needs. We offer a simplified solution that makes our fast payday loans suitable for many emergency needs too. So, if you urgently need funds from a reliable lender, just choose us and we shall get to working on ascertaining your loan eligibility and thereafter, providing you the funds you need.
What Makes This Payday Loan Fast?
Everything that leads to a payday loan being approved and deposited, is designed to be fast and efficient at Central Payday. We have worked to ensure a lean and simple fully online process of loan application and every stage thereafter has been designed similarly, to ensure you can get genuinely fast payday loans from us.
Our fast payday loans feature these benefits:
No hard credit checks
No rejections based upon credit history
Fast and lean processes
No paperwork, no faxing
Direct deposit of loan amount upon offer acceptance
What is the Process to Get a Fast Payday Loan Online?
A fast payday loan that's hard to apply for, is of little use. With Central Payday, the loan application complements our quick and friendly lending system – a short and simple online loan application is what it takes to get you started.
Once we receive these details, our team gets in touch with you and you can share the required documents to prove loan eligibility.
Eligible borrowers receive a loan offer that can be accepted directly online. Thereafter, the funds are deposited into your account.
Do You Provide Fast Online Loans for Bad Credit?
Yes, indeed we do. Our fast online loans feature no hard credit checks and accept all credit scores provided you have a stable source of income of $1,000 or above each month. So, as long as you meet our eligibility requirements, you can leave the worry of your credit scores behind as you apply for a loan from us.
Can I Get Loans with Same Day Approval and Deposits?
In most cases, our loans do payout within a day. However, promising that is something we cannot do – after all, loans can only be safe when the necessary verifications and checks are done, some of which can take more time than expected, once in a while. You can however play a role in making your loan quicker by:
Applying for the loan promptly once you know you need it
Providing legitimated and complete details and documents
Staying reachable on call and via email
Reading and accepting the loan offer promptly once you have it.
Apply for a Fast Payday Loan
Applying for a fast payday loan is very simple when you choose Central Payday. We shall need these details/documents to assess your loan eligibility:
Your SSN
Valid bank account details
Active contact details
Proof and age and identity (18+ only)
Proof of income (past 3 months)
Once you hit the "Apply Now" button, you shall be directed to our convenient and fully online loan application form that shall get you started!