Legit Direct Lender, Legit Deals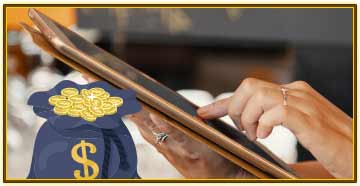 When looking for a non-bank direct lender loan, the lender's legitimacy is often a concern. Today, thanks to stronger legal and statutory requirements, direct lending has become much safer than before. Yet one cannot overstate the importance of choosing a legit lender. At Central Payday, we serve as a direct lender offering competitive deals through our fully legitimate online payday lending system.
What are Legitimate Payday Loans?
A legitimate payday loan is typically given out by a non-bank direct lender and comes with a very short tenure of up to 30 days, though it is intended to be repaid ideally on a borrower's following payday as the name suggests.
At Central Payday, our loans feature these benefits:
Acceptance of all credit scores
Fast and easy process
Transparent loan terms
Flexibility to extend payment timelines subject to eligibility
Are Online Payday Loans Safer?
Online payday loans typically tend to be safer than similar offers from store-based lenders. This is mainly due to two reasons:
It's easier to ascertain the legitimacy and customer service feedback of entities with online prominence
Online lenders tend to face more competition which leads to better offers and services being given to customers
Where can I Get the Best Payday Loans?
If you're looking for a reliable and legitimate payday lender offering competitive deals, you're simply in the right place. At Central Payday, we have put in years to ensure our services are of value to our customers and we continue to work towards enhancing our lending process and offers to suit the needs and expectations of the market.
Are Credit Checks a Part of Your Payday Loan Approval Process?
We do not require credit checks from any of the major credit tracking agencies. Where needed, we may process a soft credit check, pulling data through an external partner. Such a credit check does not impact your existing credit performance when you apply for a loan with us. This way, we are also able to provide loans no matter what your credit score is.
How to know which are the Most Trusted Payday Loans Online?
The most trusted online payday lenders tend to have well-built websites, offer clear and transparent loan terms, and are responsive when you need to contact them. When taking out a payday loan, an easy way to find the right lender is to keep an eye on these factors. Should any one of these be out of place, there should be treated as a red flag.
Apply for a Legitimate Online Payday Loan
Why apply for just any payday loan when you're here, with access to our legitimate lending services? We shall simply need these details/documents to assess your loan eligibility:
Your SSN
Valid bank account details
Active contact details
Proof and age and identity (18+ only)
Proof of income (past 3 months)
Once you hit the "Apply Now" button, you shall be directed to our convenient online loan application form that shall get you started!